Replacing your Kia oil filter
---
Do you like to change your own oil and Kia Air Filter? We have all the Kia OEM parts to get you back on the road. Did you know that the correct oil filter is as important as the oil you put in your car? Engine oil is dirty and contains containments such as soot, partials, sediment, and metal shavings. Your Kia oil filter is meant to remove these containments to keep your engine running smooth and healthy. It is important to change your oil filter often. Kia oil filters will typically last between each oil change so it is important to have it replaced often.



Why it is important to buy a Kia Oil Filter
---
Why use Genuine Kia Oil filters for Kia Parts Hub? Oil filters are made to Kia specifications for a better fit and superior performance of your vehicles. Oil filters also keep more contaminants out of your engine to keep your vehicle on the road. Having the proper oil filter will keep your engine oil clean and reduce the wear and tear on your Kia engine and improve performance.

Choosing the right Oil filter for your Kia is nearly just as important as the decision you made to buy your Kia in the first place. Whether you need a Kia Optima oil filter or one for an older model, we will have the filter for you. A genuine Kia oil filter will give you the assurance that your engine is being protected. Order from our Kia Parts Store today!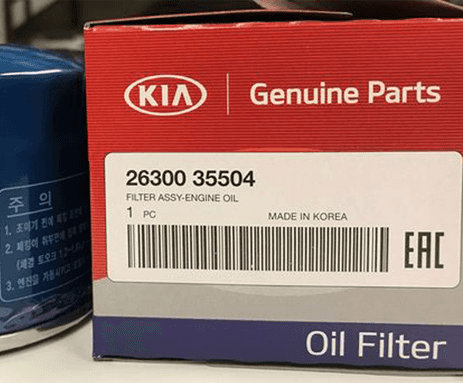 If you are a do-it-yourselfer, you will like the full selection of Kia Oil Filters on Kia Parts Hub. Simply enter your vehicle information on our homepage and we will do the rest. Delivery is fast and easy! Get your Kia Parts Direct today!